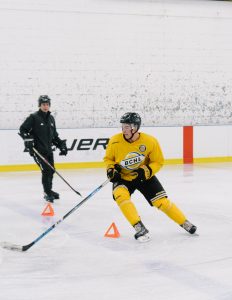 Bruno Delmaestro's Skating Schools was founded in 1985 and has been in operation for 38 years.
Bruno noticed a gap in hockey skating instruction where the foundational skating skills were not being taught. He found that parents would enroll their children in figure skating lessons in order to acquire the skills they needed for hockey. As a hockey player with an extensive figure skating background, Bruno was able to combine his knowledge of both sports to create his unique and highly effective skating programs.
By remaining a specialized skating school, focussed on the technique of skating with and without the puck, Bruno has been able to develop strong skaters from the beginning levels to NHL players. His programs teach valuable skills necessary to succeed in the game of hockey.
About Bruno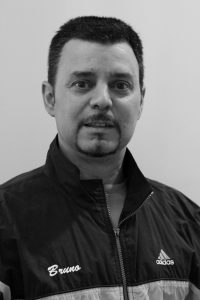 Bruno Delmaestro has a strong background in skating, having been a three-time Italian National figure skating champion, European and world competitor, and a hockey player. He has been able to transfer this success to his coaching and has been training hockey players, figure skaters, and coaches for the past 35 years. Bruno has developed his own theory and methods for teaching hockey, ringette, and figure skating. He is currently an NCCP Level 4 Certified coach in Canada.
Bruno has coached many of his figure skaters to National and International medals. In 1999, 2001 and 2006 he was selected as the Competitive Coach of the Year for the British Columbia and Yukon Sections of Skate Canada.
In hockey, Bruno has trained players who have been drafted and have played in the N.H.L., Team Canada, European and Asian hockey leagues, W.H.L., B.C.H.L., NCAA as well as players who have been awarded university scholarships. Bruno is also a Skate Canada Master CanPowerSkate Course Conductor and has worked with many different minor hockey associations who have used his skating programs.
Bruno is undoubtedly considered one of the best in the field by many hockey coaches, players, and parents.